The Brotherhood Chronicle 
The Brotherhood Chronicle (
The Brotherhood
,
The Run and Hide
,
The Dance Towards Death
) is a riveting and acclaimed international crime trilogy that follows the journey of complex private investigator Niral Solanke and a diverse cast of colorful characters as they navigate a brutal criminal underworld across the USA, Thailand, India, Australia, Russia and other countries. The trilogy has been called a "thought-provoking narrative," "a literary rollercoaster ride" and a "must-read" that "will keep you guessing." NY Times Bestselling, Thriller Award winning author
Vincent Zandri
has said "You can't do better than Tejas Desai and his epic The Brotherhood Chronicle."
For all three books, the Kindle Ebooks are available on
Amazon
and the Paperback editions are available on nearly all platforms where books are sold including
Ingram
,
Barnes and Noble
and
Indiebound
.
The Run and Hide
is "spellbinding, chilling, and complex" and "created with powerful prose," "a story that is timely, fascinating and told with a variety of nuances that keep the reader thoroughly engaged."-
Authors Reading
Scroll down to see many more reviews of both books below!
The Brotherhood Chronicle is an international crime trilogy set in New York City, Thailand, India and the American South. It starts off when Priya Mehta, a promising college student, jumps out of her dorm room to her death in New York City. As Niral Solanke, a down on his luck private investigator, looks into her demise, he is drawn into many different worlds--of high finance, Hindu religious organizations, the art community, strip clubs and ethnic criminal gangs. What follows is his journey and transformation--physical, vocational, mental, spiritual--as more mysteries are introduced and uncovered. We also follow the stories of many other multicultural characters--financiers, politicians, drug dealers, prostitutes, military generals, police officers, housewives--as they try to survive and make sense of the world they live in, informed and influenced by Hindu, Buddhist, Islamic, Christian and atheistic philosophy and thought.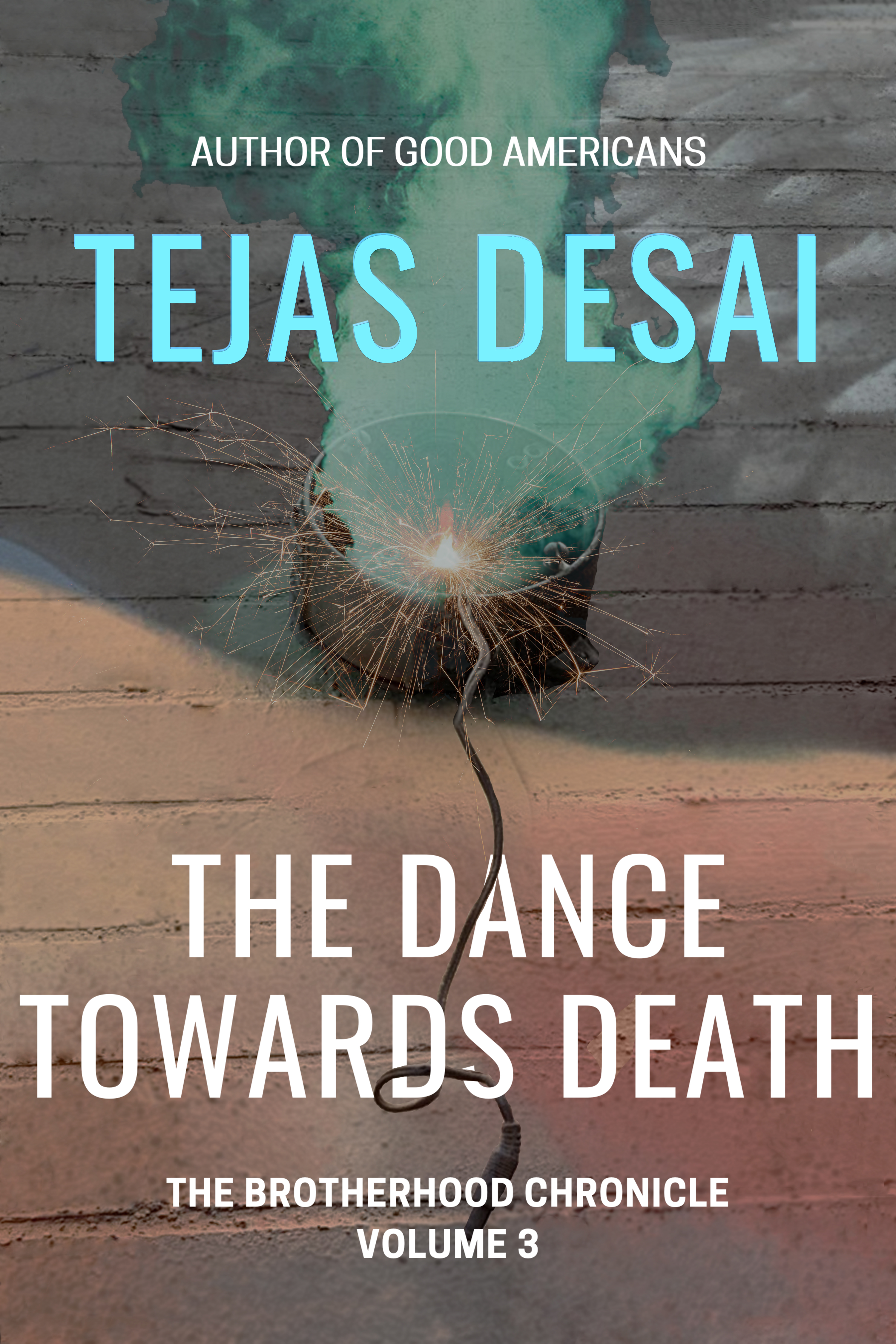 The Brotherhood, The Brotherhood Chronicle Volume 1, was initially published in September 2012 and is available for purchase in paperback and ebook editions.
A second edition featuring a new preface, introduction, an enhanced Glossary of Hindu Terms, a study guide, trivia questions, a detailed map of New York City, a list of characters, and a new cover, was released on September 16, 2018. A successful fundraising campaign was initiated on GoFundMe to assist with this republication.
The Run and Hide, The Brotherhood Chronicle Volume 2 was released on September 16, 2019 in both ebook and paperback editions. Queens Courier described the trilogy thus: "At once timely and exciting, Tejas Desai's The Brotherhood Chronicle is a must-read and will keep you guessing."

The Dance Towards Death, The Brotherhood Chronicle Volume 3, the culmination of this noir epic, became a #1 Amazon Bestseller when released on September 16, 2020.

The Brotherhood Tumblr Page, Barnes and Noble Paperback, Tejas Desai Goodreads Page
Tejas Desai Amazon Page, Evil Parrot Review of The Brotherhood, My Book Abyss Review, Authors Reading Review
Reviews of The Brotherhood by Tejas Desai:

"I picked up this book and quickly finished it within a day because it was so exciting. The plot is very fast paced, so you won't want to put it down if you can avoid it. I think the highlight of the book was the characters though. The author creates realistic characters that each have their pros and cons, which makes choosing a side difficult at times. I also enjoyed the love that went into the setting. I've never been to Queens, but I feel like the author described it in such a way that I could have been there at some point in my life. I'd highly recommend this book to anyone that loves gripping crime stories set in the past. I certainly look forward to seeing where this series takes its readers in the future."-Amazon Vine Voice Review

"Tejas Desai's novel The Brotherhood has mesmerized readers due to the thrills it offers with twists and turns you don't see coming...Desai takes readers to the edge and beyond, and will leave you wanting more, so it's a good thing that The Run and Hide, the second book in the series is available."-Buzzfeed

"Brilliantly conceived characters populate this engrossing novel...reading this novel is both entertaining and pleasantly educational, offering insights into Hindu culture and religious elements. Highly recommended."-San Francisco Review of Books
"What a well-written, intriguing not to mention engrossing story. Each plot point pulls you along building tension and drawing you into the life and goals of the main character. Characters are fleshed out perfectly, layered and flawed with excellent detail that make you love or hate them instantly. Story paces well and sub-plots enhance not detract from the main plot. A great mystery with the promise of more like it to come as the series progresses."-My Book Abyss

"A legit page turner...a spellbinding thriller."
-
NYK Daily
"Desai is especially gifted when it comes to taking readers on a thrilling ride, one that keeps them guessing until the very last page. His characters come alive in a way that gives readers an insider's view into a world loaded with raw emotion, greed, religious hypocrisy, and treachery."-
The London Post
"If you want a thrilling read that will have you wondering what is going to happen every step of the way, and leave you wanting more when it's over, then
The Brotherhood
, by bestselling author Tejas Desai, should be on your reading list this winter. But be warned there is an excellent chance you will be reaching for
The Run and Hide
, the second book in this series as soon as you are finished....Desai is well known for creating characters that are intense and so realistic that at certain points you may well feel like they are in the room with you."-
LA Post-Examiner
"Tejas Desai's novel
The Brotherhood
offers readers a rather epic escape, so much so it recently hit the bestseller list on Amazon. Desai is a wunderkind when it comes to crafting compelling characters that take you down a rabbit hole of betrayal, greed and hypocrisy."-
California Herald
"With Niral Solanke, a private investigator, [Desai] created a protagonist that is both compelling and complicated and a book that hits all the sweet spots, so it will have readers hanging on for dear life.-
The New York Journal
"Everything and everyone and anything aren't what they seem, and even as you adjust your logic to keep up The Brotherhood keeps you guessing all the way ...The best way to describe The Brotherhood is simply this: a Mickey Spillane novel with a Bombay (or is it Mumbai...bloody hell) flavour...set in New York City. Betrayal, religious hypocrisy, greed, and sexual nastiness...it is nice warm cuddly pulp fiction with a nice global marinade."-The Evil Parrot Book Club

"The author writes with the power and conviction of personal knowledge of [Hindu] culture and [New York] City...Edge of the seat tensions and thrills, twists and the unknown leave the reader trying to guess the motive for Priya's suicide, or was it murder? This mystery thriller leads the reader to an expansive literary universe of noir fiction and is the first of an international crime trilogy."-Authors Reading
Following the cataclysmic events of the first volume of The Brotherhood Chronicle, Niral Solanke has been banished to Thailand, where he works undercover for The Dragons. But a special business interest reconnects him to The Brotherhood and its new leader Bhai, creating a conflict over his loyalties. Meanwhile many characters, both old and new, are embroiled in their own dramas across Thailand, India, New York City and North Carolina, including: Rob Johnson, the Croatian-Australian killer with special, conflicted loves; Bob Macaday, fresh out of witness protection and hankering for action; Apsara, a beguiling Thai prostitute with mysterious motives; Duncan Smith, caught between career and family; Lance Portman, mired in the grind of New York City politics; and Detective Nat Sachinkowdon, dedicated to his job but tortured by his past. These characters and others dance along the wire of order and chaos, deities and doom, in this next volume of the chronicle.
Reviews of The Run and Hide by Tejas Desai:
"Tejas Desai delivers another spellbinding, chilling, and complex page-turner novel...Desai has created with powerful prose a story that is timely, fascinating and told with a variety of nuances that keep the reader thoroughly engaged. The Run and Hide book two of The Brotherhood Chronicle ignites with diversity, immoral dilemmas, and a riveting look at the customs and ways of other cultures. If you want a peek at the Asian criminal underworld, this is the book to read."-Authors Reading

"The depth of writing here is admirable, the characters are nuanced and fully fleshed out, and the descriptions of the underbelly of the world are uncanny and often mesmerizing. The plot itself is intricate, well formed, and showcases the characters, their morality, their emotions, and ultimately their humanity. Solid book and highly recommend."-Amazon Vine Voice Review
"Tejas Desai's sophomore installation builds upon the rich tapestry of character and setting he wove in The Brotherhood in masterful fashion...It is refreshing and pleasurable to see so many greatly written, unique, and believable characters that capture the diversity of the human spirit."-Goodreads Review
"The Run and Hide is quickly becoming a reader's favorite"-The London Post

"Masterful use of pacing and tension...The settings are incredibly lively and the characters are memorable...The best way to describe this story is like a game of Jenga or Russian Roulette, where the reader is constantly apprehensive of when the sky will actually fall. I would recommend this novel to anyone who appreciates a thriller or mysteries."-Amazon Review
"There is strong ability in creating wonderful and fully realized settings which he shows throughout this book...If the author has not visited these places yet has written so eloquently about them, he is truly remarkable...He shows no plot holes that I can see; and the goals of his MC are met nicely, egged on by action, mystery and suspense...This author is one to follow and I highly recommend his books. I am very excited to read the next book."-My Book Abyss

The Dance Towards Death continues the exciting story of former private investigator Niral Solanke and several survivors of a complex international criminal world across Thailand, India, Australia, New York City and the American South.

Combining Hindu-Buddhist thought with gritty dialogue, lushly described settings, informative details and a turbulent plot, this epic journey culminates in a series of powerful climaxes.

As with the previous books in The Brotherhood Chronicle series, The Dance Towards Death includes Glossaries of Terms (Indian, Thai, Australian and American) for the convenience of readers.

"If you're looking for a new young writer with a long breath and the ability to create teeth clenching suspense, you can't do better than Tejas Desai and his epic The Brotherhood Chronicle. The third long awaited installment is now a reality, but you'll want to start at the start and binge all three."-Vincent Zandri, New York Times bestselling Thriller Award winning author of The Remains and The Girl Who Wasn't There.

"Desai's trilogy is a thought-provoking narrative on loyalty, hope, crime, justice, politics, religion, and family. He uses the lineaments of fantasy and fiction to relate the truth about societal differences, customs, and the universal experience of life. Desai has created with his trilogy a literary rollercoaster ride that will have you savoring its thrills, and breathtaking adventure. It is a terrific story, eloquently told. The Dance Towards Death is an absorbing and incisive expose of affiliations, roots, race, and attachments to causes, countries, people and family."-Authors Reading

"At once timely and exciting, Tejas Desai's The Brotherhood Chronicle is a must-read and will keep you guessing."-Queens Courier